Speedwatch for Saxmundham
Similar to many villages and towns across Suffolk, Saxmundham Town Council is seeking to encourage a volunteer-led Speedwatch team to work with our local Police in reinforcing the 30 mph speed limit in areas of our town.
It is common knowledge that excess speed for the conditions or over the speed limit is one of the main reasons or accidental deaths and injuries on our roads.  Speeding is also a concern that is often raised by residents and councillors, and establishing a local Speedwatch is seen as one way to improve safety on our roads for us an our families, pedestrians, dogs and dog-walkers, cyclists and all road users.
Assistance has already been offered by our local Police and gthe next step is to form a team of volunteers.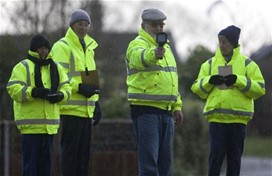 We need a small team of volunteers (approx. 6-12 people) to help make our roads safer. If you think you can help, or have any questions, please email townclerk@saxmundham-tc.gov.uk
Please note, this is not a massive commitment! After some initial training by the Police on what to do and how the equipment works, it is anticipated 2 or 3 Speedwatch sessions a year, subject to the availability of equipment. Each session is about an hour long and involves a team of 3 volunteers: so we think roughly 15 hours or so for each volunteer over a year. That's a small commitment but could help make a big difference to road safety in our community.
Being a volunteer member of Speedwatch is an effective and important way for residents to step up and make our town safer.
We welcome your help.