Saxmundham T0wn Council are seeking a reliable individual to take on the role of part time Caretaker.
15hrs a week
£12.95 per hour
NEST pension
Closing date: 5th September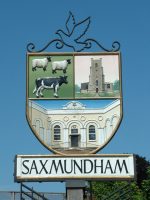 Saxmundham Town Council current owns three buildings – The Town House, The Market Hall and the Gannon rooms, as well as some smaller assets such as the Youth Booth. The Council is seeking to employ a part-time Caretaker to:
Ensure that the Council owned buildings are maintained on a day-to-day basis and kept in a good condition. 
Carry out caretaking tasks in relation to the Town Council's property assets.
Assist with Markets and Events as required.
Reporting to the Assistant Clerk the duties will include:
Organising standard maintenance
Carrying out Health and Safety monitoring
Undertake small repairs
Looking after hirers of the hall as required
Ensuring all supplies are in place for hirers
Assisting with the monthly Saturday Market
Be a key holder with occasional attendance to close up after an evening event.
The Caretaker must be able to work on their own initiative, should demonstrate that they get on well with people and have good communication skills, and be responsible and reliable. 
The role is part time for 15 hours per week, with overtime required at least one Saturday morning a month to assist with the Saturday market and on occasions to lock up after an evening event. The salary will be based on the local government scheme SCP point 17 which is currently set at £12.95 per hour with the opportunity to join the pension scheme.
Please contact the Assistant Clerk, Jen Morcom, for a copy of the job specification, person specification and an application form on 01728 604595 or assistantclerk@saxmundham-tc.gov.uk . Closing date for applications is 5th September 2022.