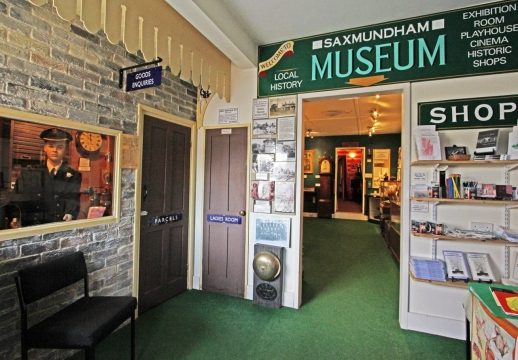 Saxmundham Museum, Stop 1.
START: Saxmundham Museum or the Library to collect your Trail Leaflet
Saxmundham Museum is an independent local museum, managed and staffed entirely by volunteers. It was founded in 2004 by members of Saxmundham and District Local History Society and is dedicated to the preservation of local artefacts and documents from the area's past.
Its exhibition rooms are packed with local history and fascinating artefacts, including details of notable local residents.  The Museum is also home to a small 15 seat cinema and a series of replica shop fronts and displays from the past.  Our extensive reference library at the rear of The Museum houses a comprehensive library of historical photos, oral histories and other interesting reference material.
Saxmundham Museum is open every Tuesday, Wednesday, Friday and Saturday from 1st April – 30th September, from 10.00am – 1.00pm.
For more details see www.saxmundhammuseum.org.uk