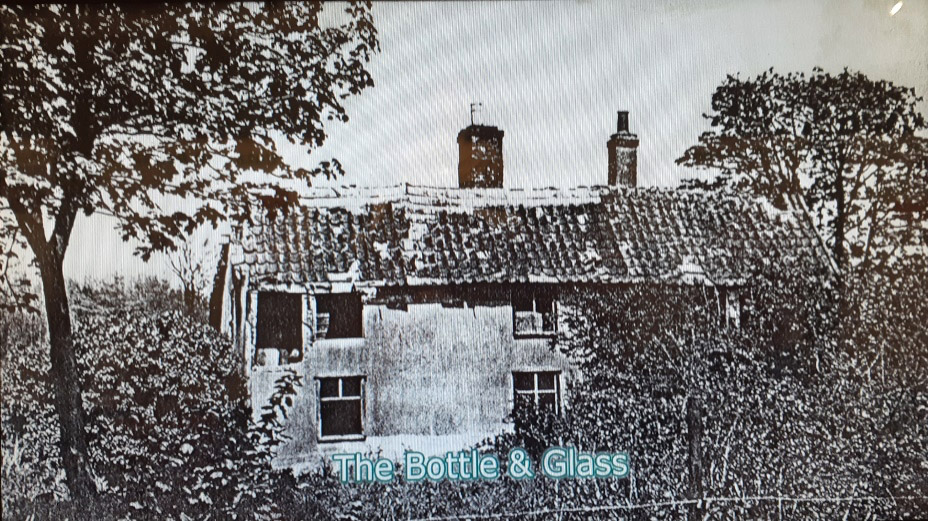 Photo courtesy of Saxmundham Museum.  Demolished, location Brook Farm Estate
Bottle and Glass Cottage, now demolished, stop 21
(Visit the Museum for more information about this former public house).
Private 27214, Sidney George Cady, 2nd Battalion Bedfordshire Regiment, 1890 – 30 July 1916.
The Cady narrative is sad but unlike most experiences, has a happy ending.  Sidney perished in July 1916 leaving his father alone.  His brother Percy, returned to Europe from Canada to fight, was injured, and returned to England for convalescence.  Percy met his wife to be in Dorset and the couple sailed to Canada.  However, Sidney's father decided not to be alone and aged sixty-six emigrated to be with his son Percy and his family in Manitoba, Canada.
All war narratives are sad.   But the story of the Cady family shows how the War created a reunion. 
Born in Kelsale, Sidney George, was one of eight surviving children of William and Sarah Cady.  His father an agricultural labourer gained promotion to Horseman upon his move to Rendham.  William lost his wife and the children their mother, and by 1911, now living at the Bottle and Glass Cottage in Saxmundham, only Sidney George, also employed as a farm labourer, lived with his father.   Sidney George enlisted in Bury St Edmunds and joined the Bedfordshire Regiment.  Seemingly this was during 1915-1916 as he did not receive the 1914 or 1915 Star medal.    With the outbreak of war many young men volunteered to serve their country viewing it as a chance to escape the mundane life and seek adventure.  However, Sidney's brother had already sought adventure.
 Prior to the war, Percy emigrated to Canada to work on the vast grain farms in Manitoba.  Like many British Canadians, patriotic duty mixed with the opportunity to return to Britain drove many to enlist.  Percy signed his attestation paper in December 1915 and joined the Canadian Overseas Expeditionary Force.  Did Percy and Sidney have a chance to meet each other?  We will never know.  Percy was medically discharged from the 144th Battalion whilst Sidney, with the Bedfordshire Regiment was transferred to the Somme and faced horrendous conditions. 
A month before Sidney's death, fellow members of his Battalion intentionally wounded themselves and were named and shamed in the War Diaries.  Such acts were not viewed as mental trauma but cowardice.  Seemingly Sidney's time in the trenches was very traumatic during this time of low morale.   However, brave Sidney fought and likely perished in the region of Bernafay Wood, Montauban-de-Picardie.  He was one of a hundred and ninety-two soldiers from the 2nd Battalion, Bedfordshire Regiment that perished on the 30 July 1916.  Sidney has no known grave, but is commemorated on the Thiepval, Saxmundham Town Memorials, and Saxmundham Oddfellows Memorial.  Sidney's death left his father alone, but not for long, as William's adventure was due to commence.
Percy Cady whilst convalescing in Epson met his bride to be, Elsie May Collins and they married by licence in Poole, Dorset.  Percy returned to Canada with his new wife.  Soon afterwards, in 1920, aged sixty-six, William Cady joined them in Carberry, Manitoba.   William lived to the grand age of ninety-two and died in 1942.   Whilst war took the life of his son Sidney, it returned another son, Percy to him.