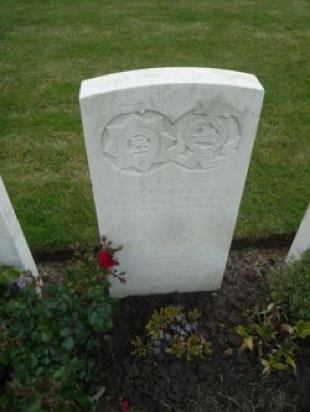 Private 42757, Charles John Shipp
and
Private 28314, William Francis Shipp
Private 42757, Charles John Shipp, 10th Battalion, Worcester Regiment (previously Bedfordshire Regiment), c1891- 17 April 1918
Private 28314, William Francis Shipp, 10th Battalion, Essex Regiment, 1890 – 23 October 1917
 Both sons of William Shipp, and his first wife, Alice Ann, perished during the First World War.  The boys' father, William, a farm labourer originated from Sternfield, where Charles John, William Francis and their sister, Louisa were born.  The children's mother died in 1898 and William remarried Lydia Noller, a policeman's daughter from Stoke by Nayland in 1900.    In 1901 the family lived on Church Hill and ten years later in 1911 the family expanded with five children born from 1902 to 1910.  Charles and his brother William aged twenty-one and twenty respectively still lived with their father, stepmother, and siblings at 42 Hill Cottages, Saxmundham.  By this time, William (senior) was employed as a Farm Steward at Hurts Hall.  (A position of responsibility in the running of the Long family estate).  It is quite likely that William Francis and Charles John employed as gardener's labourers also worked for the Long family.    
William likely moved away from the family home in 1912 after marrying Ella Spinks, the girl next door, who lived at 40 Church Hill.  The couple soon had an addition to the family when daughter Vera was born in 1913.    With war enlistment compulsory in 1916, Charles entered the Bedfordshire regiment before transfer to the Worcester Regiment and William Francis enlisted in the Essex Regiment.
William Francis lost his life on 23 October 1917 and is buried in the Dozinghem Military Cemetery, Poperinge, Belgium.  It is likely 
that he died from injuries sustained during fighting East of Polecappelle on 22 October 1917.  Less than a year later, Charles John died on 17 April 1918 and is buried in the Mendinghem Military Cemetery, Poperinge, Belgium.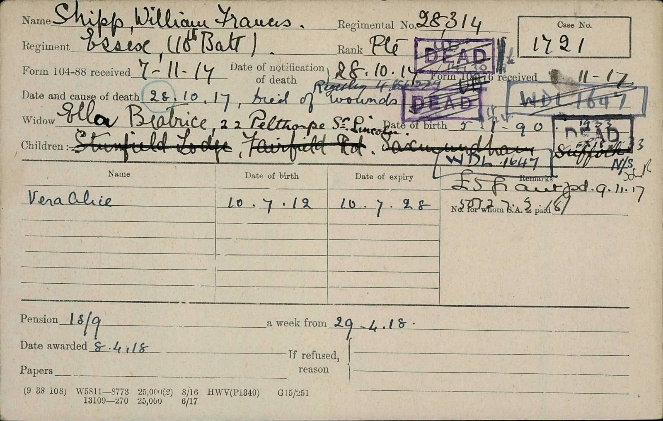 Charles's Dependant's Pension was not claimed by his father but by his stepmother Lydia, who by 1918 lived in the Market Place, Saxmundham.  Meanwhile, William's wife, Ella, received a pension for their daughter Vera Alice until she attained the age of sixteen.  It appears that Ella temporarily moved away from Sternfield Lodge, Fairfield Road after William died and lived in 22 Pelthorpe Street, Lincoln.  By 1922 they returned to Saxmundham and lived with Ella's mother Sarah Spinks at 3 Fairfield Road.  Not only had Ella lost her husband, but also her brother, Allan Spinks, of the Lincolnshire Regiment, who also perished during World War One. 
Charles John and William Francis are both commemorated on the Saxmundham Church, Chapel and Town Memorials.  As they were both members of the Oddfellows, they are also remembered on the wooden plaque that at one time was in the Market Hall.