Events Diary

H.G. Wells THE TIME MACHINE
April 8, 2022 @ 6:00 pm
-
August 8, 2022 @ 7:30 pm
The Keeper's Daughter Presents
8th of April 2022
H.G. Wells THE TIME MACHINE
Tickets are £8 and can be purchased online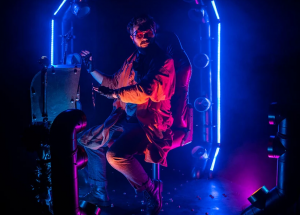 Adapted + Directed by Mark Finbow
An eccentric victorian inventor travels into the planet's distant future, where he discovers an idyllic garden-earth and quickly bonds with the peaceful inhabitants. But when, in the still of night, his Time Machine disappears the traveller is forced to confront the true fate of humanity's future and must overcome a subterranean horror in a desperate escape back to his own time.
Utilising spoken word, puppetry and a fully working Time Machine The Keeper's Daughter transform this classic victorian sci-fi into a neon-electro adventure for the entire family.
Suitable for ages 7+
Performance lasts 1 hour.