Events Diary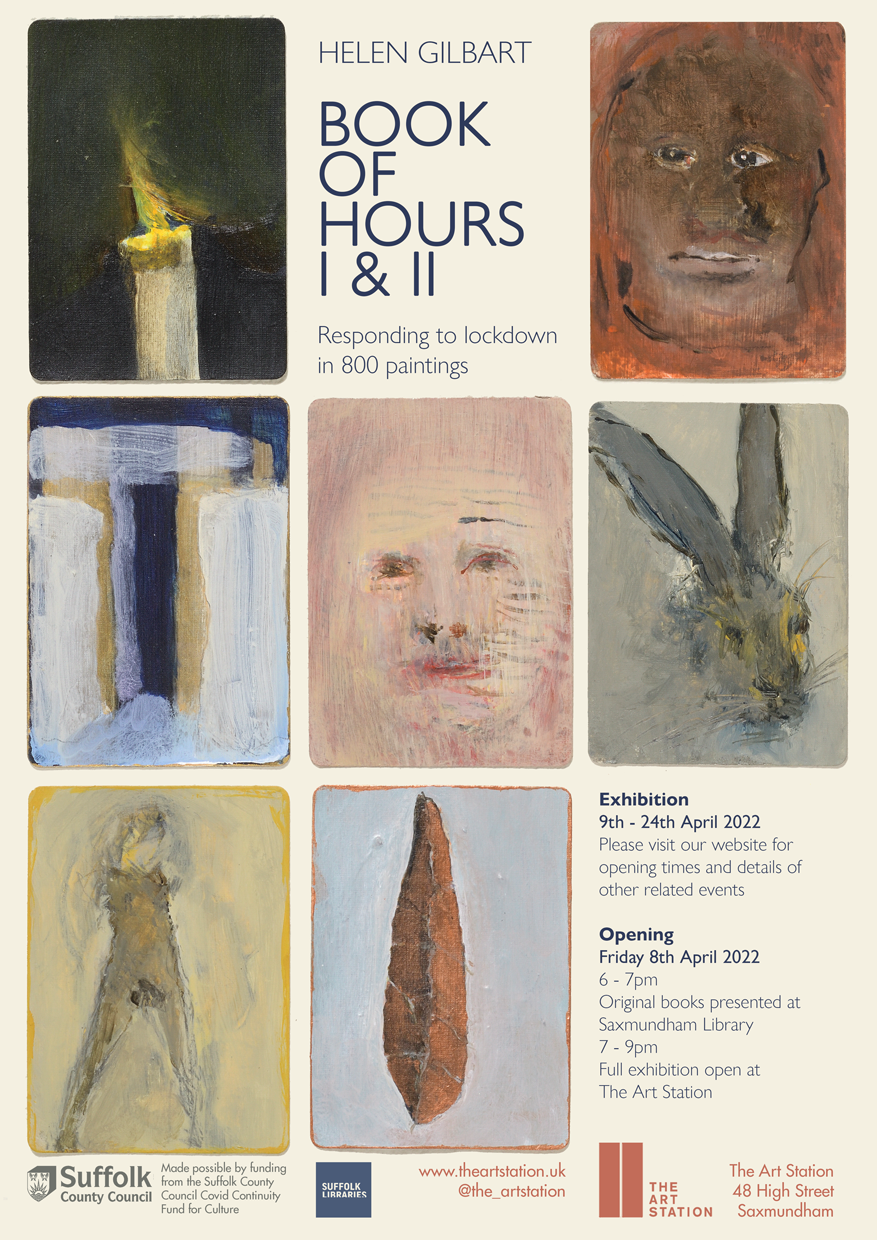 Helen Gilbart: Book of Hours I & II, 2020 – 2021
April 8, 2022 @ 7:00 pm
-
9:00 pm
Book of Hours I & II is a project by artist Helen Gilbart, consisting of nearly 800 small, mixed media paintings on playing cards made between the first lockdown in March 2020 and June 2021 and assembled into two delicate tomes, produced entirely within the artists' rural studio near the Suffolk coast.
The project forms a visual chronology and journey through the pandemic, utilising symbolism and global references to take us all the way from northern European Vanitas skulls, the hand axe discovered in Happisburgh, Norfolk in 2000, via the US presidential election, the newly discovered city of Aten in Egypt and much more. Themes are both personal and universal, and contextualised by wide ranging source materials, with Covid19 unavoidably taking centre stage through images that narrate the pandemic as it unfolded. Intricately rendered and visually stunning, the books take us from the private environment of an artist's thought process out into the surrounding Suffolk countryside and beyond.
To present Book of Hours I & II, The Art Station has photographed and digitised the works and will display them online as interactive resources, enabling viewers to engage with the paintings in further depth alongside notations, interviews and links to explore. The Art Station have also commissioned an associated film about the project made by filmmaker Emily Richardson.
To accompany the project, an exhibition of new and existing works by Helen Gilbart will be open to visitors at The Art Station from Saturday 9th – Sunday 24th April.
The Art Station is also working in partnership with Saxmundham Library to display the original books in the library, alongside a programme of educational events with the artist and the local community. On Friday 8th April Saxmundham Library will host a special handling of the original books between 6 – 7 pm, followed by the private view of the full exhibition at The Art Station from 7 – 9 pm (a minute's walk away).