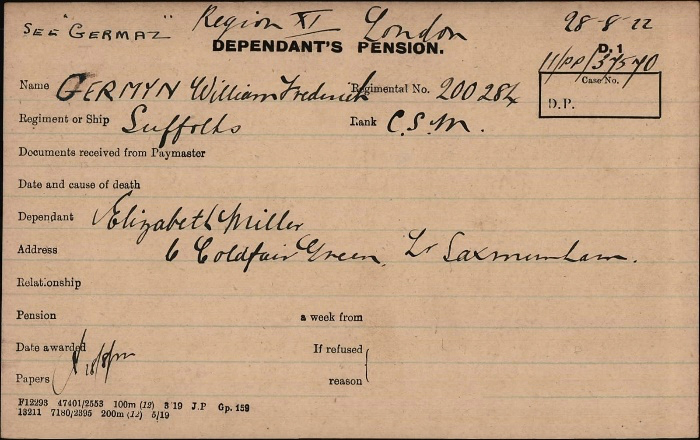 Sergeant 200284 (formerly 1798) William Frederick Camp-Jermyn, 4th Battalion, Suffolk Regiment, September 1897- 27 June 1917.
William Frederick Camp-Jermyn is commemorated on Saxmundham Memorials, albeit no record exists that records him or his father living in the town.
Potentially his sister Edith resided in Saxmundham as her daughter's birth was registered in the town in February 1917.
Undoubtedly William was brave.
He enlisted in the Suffolk Regiment in 1914, gained the Italian Bronze Medal in 1916 and was promoted to Acting Company Sergeant Major.
However, William's biography highlights more than bravery and war.
 Born in East Heigham, near Norwich, William Frederick was the only son of Frederick William Camp-Jermyn and Edith Emmeline (nee Smith).  His parents married in East Heigham in April 1895 before moving to Suffolk circa 1900 were William's sisters Edith Susannah and Annie Elizabeth were born.  It is likely that William's father, a carpenter worked for Richard Garrett Ltd., building threshing machines.  Seemingly the family settled into Suffolk life, in Leiston, where William gained another sister, Alice Mary.  However, in 1902 and tragedy struck.
William's mother died in December 1902, leaving his father to care for four children.    It is likely that the children were fostered by Elizabeth Miller until at least the time his father re-married Susan Elizabeth Youngman.  By 1911, the family now living in Sternfield Street, expanded with the birth of two further sisters, Lily Maud, and Hilda Laura.   These events likely unsettled young William.  Possibly he relished the thought of adventure when he enlisted in Saxmundham in the Suffolk Regiment and disembarked to France in November 1914, aged only seventeen.    William survived the fighting, the depredations of trench warfare and the Somme offensive in 1916 and during the process gained promotion to Acting Company Sergeant Major.  Moreover, he received the Italian bronze medal for gallantry on 19 March 1916.  This award recognised singular acts of heroism, but sadly the circumstances for the reward are unknown.  However, even more sadly, William died in the Boyelles region of France on 26 June 1917. The War Diary notes the losses that either occurred during the digging of a new trench and the subsequent shelling.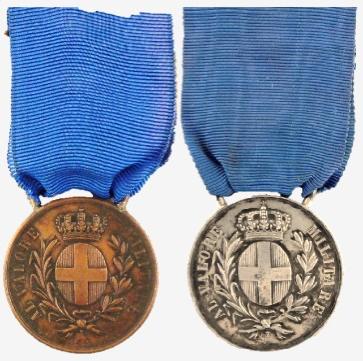 The 4th Battalion dug a new trench along RIVER ROAD on 26 June 1917.  The following day, the enemy on noticing the new trench proceeded to shell it heavily and continued to do so until it was practically obliterated and the posts holding it were withdrawn. During the day the front and support lines were also very heavily shelled.   William Frederick Camp-Jermyn lost his life and is buried in Boyelles Communal Cemetery Extension.  However, unlike many relations, his father, now living in Trimley St Mary, did not apply for his son's pension payment.
Unusually this was claimed, albeit, likely not paid to his foster mother, Elizabeth Miller.  Seemingly Elizabeth, of 6 Coldfair, near Saxmundham, made several claims and there are records in the name of 'Jermaz', 'Germyn' in addition to 'Jermyn'.  
Around this time, in 1921, Elizabeth lived and worked for Arthur William Palmer, a widower with three children aged between thirteen and sixteen, plus a child, recorded, as a stepchild.  However, it was unlikely, to have been a stepchild, but a four-year-old infant girl, named Violet Louis Camp-Jermyn, born 15 February 1917 in Saxmundham, the illegitimate daughter of Edith Susannah, William's younger sister.  Elizabeth Miller, the Camp-Jermyn's former foster mother took charge of Violet, probably quite soon after her birth.    Her mother Edith Susannah married Herbert H Pateman and by 1921 lived in London with her in-laws and a baby, Hilda Mary Lillian Pateman.  A half-sister to Violet.    Meanwhile, William Herbert's father had moved to Trimley St Mary.  Seemingly William Herbert's niece had been abandoned by his family with Elizabeth Miller.  Can we blame Elizabeth for endeavouring to find funds to support her foster daughter Violet Camp?